Used Truck: History of Ford F-150 From 1948-1965
Posted Wednesday, Nov 16, 2022
According to iSeeCars, about 17.4 million cars were sold in 2021 and many of them were used vehicles purchased by people like you. You may ask which one was sold most frequently… At the top, we see that the most popular used car in 2021 was the Ford F-150. Studies show that this type of truck accounted for almost 4% of all used car sales. It sounds like the F-150 was a truck everyone wanted to get their hands on! Throughout the last few years, Ford's F-Series has been extremely successful.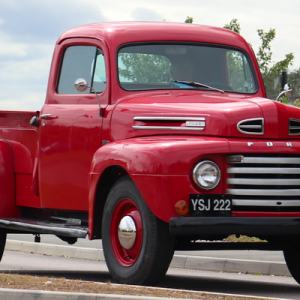 Let's dive into a little bit of the history of the Ford F-150. This type of truck was introduced to customers in the United States back in 1948. At first, they were marketed as Ford Bonus-Built trucks, being the first F-Series truck manufactured. 
Over the next few years, Ford continued to release iterations of the truck, which included F-1 to F-8 models. These trucks boasted a manual transmission, as well as two seats for the driver and one passenger. They also included windshield wipers, which was ahead of its time when compared to other pickup trucks.
Over the next few years, until 1960 - there were major design changes and upgrades done to Ford's best selling trucks. New features such as upgraded engine, larger interior, and slicker exterior made the trucks even more attractive to buyers. Their model names were also converted back to those which we are more familiar with today. These included the F-100, F-250, and F-350. 
In the coming years, the twin-I-beam was added to the truck, making it run more efficiently. It helped the driver control the truck more easily. This feature was included in the series for the next several years. By 1965, Ford had also introduced the Ranger to their available truck models. 
We will continue the history of this truck in another post.
If you are looking for used vehicles for sale, visit our website or give us a call today.